A recent post made the case for including a pricing executive summary in proposals. The aim is to show your offer was carefully developed, and is realistic and more attractive than alternatives.
This post shows how to make that summary easy to consume and responsive to your prospect's issues.
Organizing your cost/price summary
Structure the summary around 3-5 themes important to your prospect. Themes vary by industry and project type, but common examples include price reasonableness, total cost of ownership, costs aligned to progress payments, risk of overruns and/or non-performance, return on investment, etc.
Present the information at a high level and aim for a 50/50 balance of text and visuals.
Rich visualization gives evaluators fresh perspectives on your price and builds comfort. Your goal is to make the evaluator's job easier, not to complicate it.
Cost/price presentation examples
Use these examples to stimulate your thinking, and then decide what will work best in your situation.
Over time: Show costs broken out by major milestones and/or project segments
Purpose: To show affordability, alignment with progress payments and/or possible divisions between budget categories (e.g. capital vs. expense items).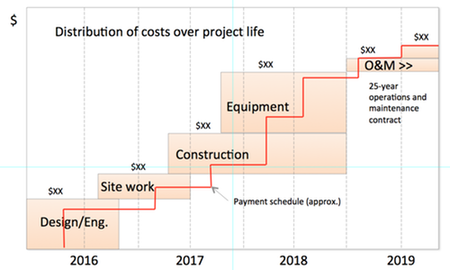 Compared with similar projects: Use a table and visual to present costs of recent projects of similar size and scope to the current project.
Purpose: To show price is realistic and competitive
How estimated: Diagram your estimating process
Purpose: To reinforce that your price is cost-based and carefully calculated, so the prospect understands your price is realistic and any contracting negotiations must be logic-based.
By subcontractor: Use a pie chart to show the relative size of contracted segments, together with information on each contractor.
Purpose: To show how costs are allocated, emphasize competitive selection process, contractor capability and low non-performance risk.

Including trade-offs: Use a table to show options and how each decision impacted cost and price
Purpose: To show how cost/price decisions align with the prospect's strategic drivers and hot button issues. Also use to ghost competitors' price offers.
Return on investment: Use a graph to show value added, compared to project costs
Purpose: Where your solution will increase sales or reduce costs, to show a comparison of costs and related profits/savings over time
Add a selling caption
For each visual, include a selling caption to stress the benefits it conveys. Write these so they can be cut-and-pasted into an evaluator's summary.
Here's a post on writing selling captions in proposals.
The payoff: Better contracting conversations
In the absence of cost calculations, market comparisons or alternatives considered, your prospect has little basis for negotiation other than "your price seems high."
A strong summary will help prospects see you as a responsible and reasonable vendor, willing to share information and seeking a fair deal.
This is to your advantage, whether you want to avoid turning an informal opportunity into an open competition, or in a formal bid situation where final selection is subject to successful contracting.