An earlier post identified the importance of understanding the client and prospect in developing successful proposals. This week we explore the skills that enable business developers to get close enough to prospects to acquire that understanding.
How close can you get?
Our friend Mark Bowden included a hierarchy of relationships in his book, Winning Body Language for Sales Professionals. We've adapted it with his permission in the diagram below.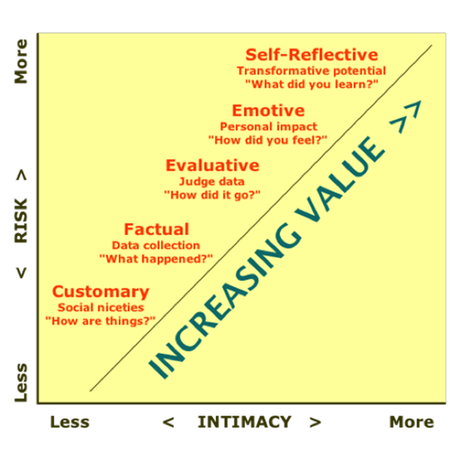 The lowest level, "Customary," describes perfunctory, "How are things?'" conversations. Higher-level, "Emotive" and "Self-reflective" interactions involve asking deeper questions that result in increasingly more intimate sharing. Business developers who communicate with prospects at these levels uncover the knowledge needed to build a powerful RFP response.
Risky business
Moving up the intimacy scale requires courage and judgement. It also involves risk. Seek increased intimacy too soon and you'll be written off as pushy. Fail to get close enough and you'll never learn what you need to craft a winning proposal.
Part of success is understanding the need and the levels you want to reach. Another is discovering which conversational tools work best for you. And the most important part, of course, is practice.
We'll leave the understanding and practising parts to you. Meanwhile, here are two questions to try adapting and using.
What one or two improvements would make you happier in the next contract?
What are your top two or three takeaways from the current contract experience?
Each can help move your conversations from Evaluative towards Emotive and Self-Reflective. Constraining the responses to one to three items forces the client to reflect and prioritize, increasing his or her investment in the conversation.
It's about the prospect
The best business developers aren't the slickest or most clever—they're ones who show over time they really care about the prospect's success. Reinforce that message—and back it up with consistent action—and you'll get the trust and answers you need.