End-to-end support for P3/AFP proposals
Complex2Clear delivers compliance, clarity and consistency, freeing project leaders to focus on design, delivery and commercial issues.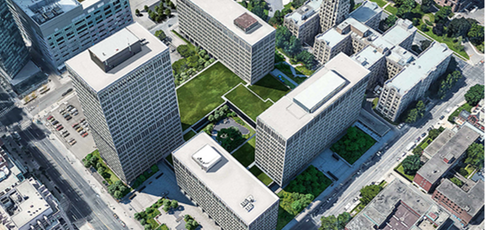 Complex2Clear supported the winning Fengate-PCL bid on the $1.5B Macdonald Block reconstruction project in downtown Toronto

Clarity and consistency across all sections
Complex2Clear integrates smoothly into large, complex consortiums to provide expert management support at all phases of proposal development. We master the RFX requirements, and then engage with every aspect of the process from pre-kickoff to document production and submission, providing  multi-party coordination and reducing risk in the event of staff turnover. We match our scope to the needs of your team and the submission. This makes us an equally good fit in supporting teams run by a D-B entity with in-house resources, or an infrastructure fund with limited internal capacity.
Complex2Clear's typical scope includes support for:

SPV SECTIONS
We support multi-partner sections, such as for the special purpose vehicle, from strategy to final production

BENEFIT
These critical sections receive expert attention to portray a capable, unified and self-governing consortium

COLOUR TEAM REVIEWS
We prepare colour team docs, facilitate reviews, capture input, and follow up to close gaps and integrate changes

BENEFIT
Expertly managed review sessions, real-time input capture, and attentive follow-up maximize improvement

SINGLE AUTHOR EDITING
We provide content prompts and professional editing to ensure structural consistency and unified style and voice

BENEFIT
Consistency across the entire proposal signals evaluators that the consortium is competent and aligned

GRAPHICS PRODUCTION
We design logos and templates, rework graphics and develop new graphics from concept to create a consistent look and feel 

BENEFIT
Visual consistency sends the message that the consortium is well organized and managed

Five signs your P3 team could benefit from Complex2Clear support

The team has a process, but opportunities always seem to be a last-minute scramble and you wonder if the submission could have been better

One or more team members struggle to deliver compliant and compelling content on the agreed schedule

Colour team / progress reviews do not generate the needed improvement and responsibilities are not clear during the submission window

The consortium needs a dedicated resource to keep everyone on track and avoid conflicting internal corporate obligations

Senior leaders spend too much time on proposal management issues instead of on agreements and contracting between team members
Get in touch to learn more
Please give us a call or complete the form at right to see if we're a good fit for your needs. For maximum benefit, engage with us early in the response window.
Privacy Policy:
 

Complex2Clear will not use your name and contact information for any purpose other than to respond to your request and to advise you of important updates. We will not sell or give your information to any third party.